---
🎻🎼✍🏼
VIOLINIST | COMPOSER
Welcome to my new digital stage!
---
CONTACT
What I can do for you:
📝COMPOSE - for film / TV / ads, motion graphics, exhibitions / installations
🎼ARRANGE & TRANSCRIBE - scores
🎙RECORD - strings, backing vocals, synths
🎻PERFORM - classical / pop / pit orchestra/ensembles, pop bands, weddings
☎️ASSEMBLE - string ensembles, pop/rock/funk/jazz bands

Don't need any of these services but would like to contribute to my artistic development and career advancement?
☕️ Click here to buy me a coffee :)
Email: hello@rachelwyen.com
or use the contact form below to inquire about rates and services.
ABOUT
Rachel Wong Yen Yi (b. 1997, a.k.a. Rachel W.yen) is a Malaysian violinist, composer and arranger currently based in Singapore. Since 2019, she has performed in concert halls and on international TV, scored three short films, produced a theme song for a podcast, and had her orchestrations played by the Singapore Symphony Orchestra. In fall 2020, Rachel released her first single "Homesick" under the pseudonym - Yen Océane, available on all streaming platforms now. She is currently arranging and recording her debut EP - diary of a younger girl, to be released in Spring 2022.
portfolio
28 Feb 2021 - I got to work on music and sound design for thenational.api, an anthology of short stories about 3 queer Malaysians living in Singapore.
29 Oct 2020 - I haven't been home since New Year's Eve and every day it seems less likely that I will be home for Christmas due to all the COVID-19 travel restrictions and lockdowns in place around the world. This song is everything I'm feeling in this moment in history: my longing for home and my family, my insecurities about how adult life is going, but most of all, the love and gratitude I have for the people who have made me feel less alone, as well as my hope for the future. Listen now on YouTube below, also available on all streaming platforms and for purchase on iTunes or Amazon.
I was selected to participate in the Singapore Symphony Orchestra's first ever orchestration workshop, this is my arrangement of Ravel's Le Gibet.
A continuation of a pursuit to find release through music and poetry.
COMPOSING / ARRANGING
---
ORIGINAL COMPOSITIONS (INSTRUMENTAL)
Exit Music (from a Film)
A collection of music inspired by my favourite film composers.
instrumentation: varied

Degas Tableaux
A suite inspired by the artwork of Edgar Degas.
instrumentation: string quartet and wind quintet

Kelas Berkuasa
A composition based on the theme "Bicentennial Singapore".
instrumentation: 2 violins, sheng, double bass, vibraphone, marimba
Toy Box
A composition for percussion trio.
instrumentation: vibraphone, glockenspiel, timpani, temple block, conga, bass drum

Nebula Codex
An original composition inspired by the film Cloud Atlas, the official synopsis of which is "an exploration of how the actions of individual lives impact one another in the past, present, and future".
instrumentation: string quintet, flute, clarinet, two French horns, piano, harp, and drumset.
RECORDING / PERFORMING
---
recordings
"走马 (Trotting Horse)", Wang Chen Wei x Siong Leng Musical Association
"Tangerine Garden", Sara Vahedi
"Rebecca", Adrian Sergovich
"Bent", Krysta Joy (Enjoy the Process - EP)
"Mrs. Puss", Maleva Ristananda
performances
12th December 2021 - Krysta Joy x Keona (ft. Special Friends) @ Esplanade Outdoor Theatre
2021 - The Living Composers Series: Liminality
23rd December 2020 - Oddballs @ Esplanade Concourse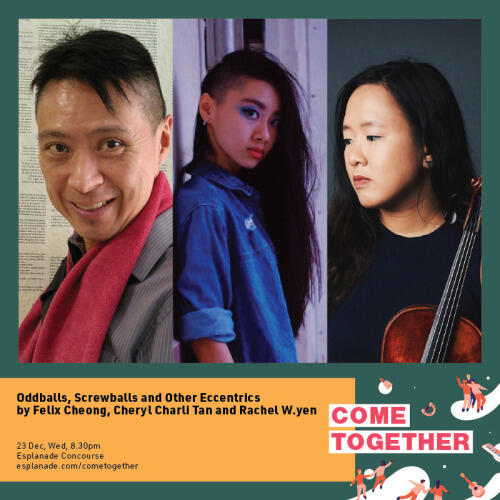 4th April 2019 - Asia's Got Talent S3 grand final, filmed at Marina Bay Sands Grand Theatre
7th Feb 2019 - Gerhana Skacinta 20th Anniversary Tour Live in Singapore @ Esplanade Concert Hall
ARRANGING / TRANSCRIBING
OTHERS
Secret Demon Cup
OneRepublic / Imagine Dragons / Pitch Perfect mashup
instrumentation: violin 1, violin 2, violin 3, hand percussion (cups)

Frozen Hearts
piano quintet medley of songs from Frozen
instrumentation: violin 1, violin 2, viola, cello, piano

You Raise Me Up
addition of string parts to existing choral & piano arrangement
instrumentation: solo violin, violin 1, violin 2, viola, cello, rearranged piano

Love Story meets Viva la Vida
orchestral arrangement of mashup by The Piano Guys
instrumentation: violin 1, violin 2, viola, cello, piano, percussion

A Song of Ice and Fire
duet medley of songs from Game of Thrones
instrumentation: violin, piano